"Everything okay Bud?" I called, hearing little footsteps in the hall outside my bedroom door.
"I brought you something," Brian said. His face was shy and serious as he presented his Scooby Doo nightlight.
"You keep leaving Daddy's light on all night. I thought maybe you were afraid of the dark since Daddy went to heaven."
I didn't even realize I was doing it, but Brian was right. Peter's platinum wedding band looked like a holy relic resting in a pool of lamplight on his nightstand.
"You keep that nightlight Sweetie. I'm not afraid of the dark."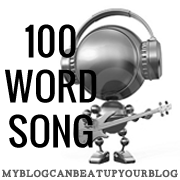 For this week's One Hundred Word Song, Lance presented us with the song "Leave Your Light" on by Tim Eriksen as a source of inspiration. It immediately made me think of Michaela, whose story I haven't visited in a while. She's the "star" of my very rough first novel "Lost and Found". If you like it, click here for more.