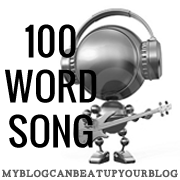 Professor Leeroy and Lance at My Blog Can Beat up Your Blog are letting me pass my 100 Word Song in a little late this week. I hope he doesn't mind, I've given Karen the night off and introducing you to Charlotte. Musical inspiration is provided by Damien Rice's song "Elephant".


Playing Possum
The dull midwinter light filtered through the vinyl blinds into Charlotte's dorm room. She tried to role over but something blocked her way. She placed her hand on the Brendan's solid shoulder. Memories washed over her with a wave of nausea. They salved his broken heart with Jagermeister until it was empty. Then they turned to each other. Charlotte knew she just a warm place for Brendan to rest his wounded pride—
just good friends
. For her it was the unveiling of a long kept secret.
"What now," she whispered.
"Damn," he thought to himself as he pretended to sleep.