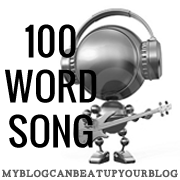 It's Tuesday and I'm getting my 100 Word Song entry in just under the wire again. This week's inspiration was "Peel Me a Grape" sung by the fabulous Diana Krall. I haven't written much Karen lately and I thought it was time for her to make an appearance.
Floating
Karen gazed across the gleaming white marble surface. The bathtub was deep and wide, a perfect place to nestle in a cloud of bubbles while sipping champagne and nibbling bonbons. She imagined fragrant water soothing away the aches in her lower back and shoulders as a radio played in the background. The alto crooner sang her a lullaby while her cares floated away.
Maria's voice yanked Karen from her daydream.
"We have ten more rooms to clean Karen. You don't want to lose this job. We'll be stuck cleaning rooms in some flea bag motel."