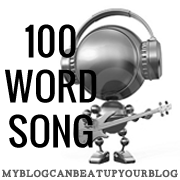 I'm getting my 100 Word Song story in under the wire once again for Lance's link over at My Blog Can Beat Up Your Blog. This week's song to inspire was Bauhaus' "Of Lillies and Remains". Here's a story of Karen as she goes to meet Henry's parents for the first time. You can read more about Karen
here
.
The Marble Hallway
Karen squeezed Henry's arm as they walked into the country club. The overpowering smell of lilies reminded her of Grampa's funeral. She fought the urge to crane her neck to see how high the ceiling went. Karen had never been in a place so grand. Fear made her breath quicken.
Then she heard her mother's voice in her head, "Money doesn't make them better than you Girlie. Hold your head up high."
She took a deep breath and smiled up at Henry, determined to act like she belonged here. Determined to be a lady. Determined to leave her past behind.