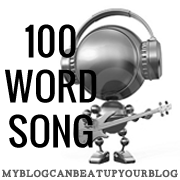 I was over the moon when Lance over at
My Blog Can Beat Up Your Blog
asked me to pick this week's song for the 100 Word Song prompt he hosts. The pressure was on to pick a great song by a great musician. I must thank my wonderful friend, known on this blog as
Kate Sterling
, who introduced me to the fabulous musician Ben Harper. My tastes can be a little predictable so if it weren't for her, I might never have heard any of his songs other than his hit from a few years back, "Steal My Kisses". While that is a great song, it pales in comparison to some of the poetry to be found if you dig a little deeper into his music. I picked the song "The Woman in You" for this week's 100 Word Song. I hope you enjoy the song and the story…
The Woman in You
"Why so chipper today Girlie?" Peggy asked.
Karen shrugged and tried not to look like a thirteen-year-old who'd been caught breaking curfew.
"Why shouldn't I be happy?"
"No reason. But I wouldn't think taking the clothes off the line is cause for so much joy," she pressed. "You seen that Henry again?"
Karen continued folding the worn and faded towels.
"You have a future Girlie. Don't blow it on some charmer."
"It isn't like that Mum!"
"No? Good."
"I'm not stupid and I'm not a little girl any more."
"I know Sweetie. That's what scares the hell out of me."